Delilah Home
Delilah Home: Organic, Sustainable, Chic, and Comfortable Home Accents That Are Good For You and Great For The Environment
These days, more people are turning to products that are friendly to the environment and community. It's safe to say that we're now looking after the welfare of nature. From personal to household items, we take our hats off to brands that put the safety of others above else.
Delilah's Story
Why Delilah, you ask? It all started when CEO Michael Twer's puppy, Delilah, got lost in the North Carolina mountains. She weathered extreme cold temperatures for 62 days. Thanks to the goodness of selfless people, Delilah was able to make it back home safely. This Incredibly journey shows how a community can change lives by supporting one another.
Thus Delilah Home was born. Her story reflects the fundamental pillars of the brand. A company that truly cares about the environment, Delilah Home's offerings include home essentials such as towels, bedsheets, duvet covers, and rugs. 
The Delilah Home Difference
What started out as a search and rescue operation became a home brand that offers plush towels, sheets, and rugs.
Their products are made from 100% organic cotton, making them the go-to for ultimate comfort. What's even more interesting is how their farmers practice organic farming to produce top-grade cotton.
The usage of toxic pesticides is a big no-no for the company. With the help of garlic, neem oil, vinegar, and hydrogen, farmers turn to more natural ways of getting rid of pests. That's how they cater to their market while keeping Mother Nature in mind. Their organic cotton is the highest textile standard that is Global Organic Textile Standard (GOTS).
Another thing to love about Delilah Home is their beach towels that boast about 500 grams per square meter. They're longer and 50% thicker than most towels, which makes them super absorbent. You can expect them to dry quickly despite all that. They're built to perform and are definitely built to last.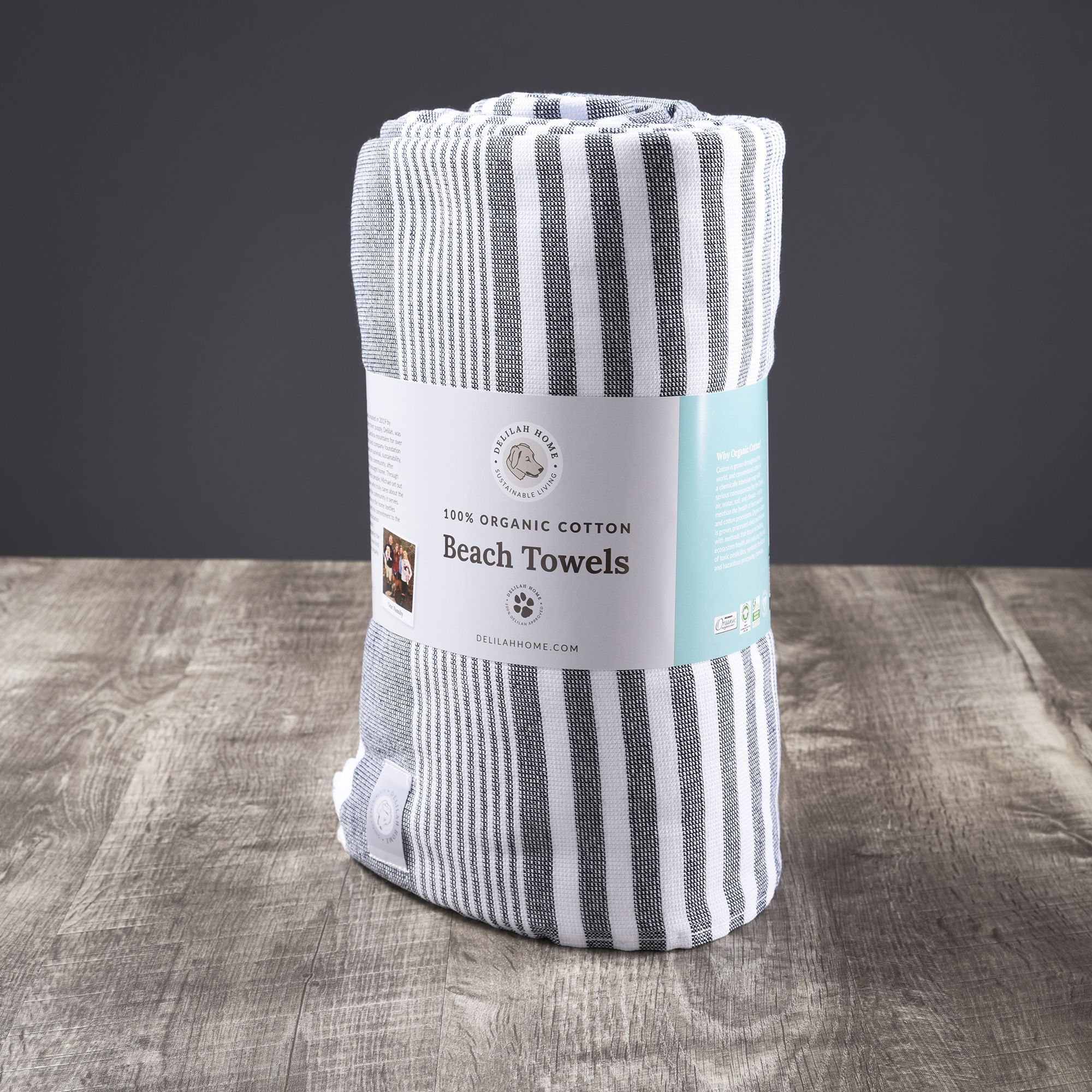 Why Organic Cotton Matters
It's a no-brainer when we say that organic cotton is so much better for us and the environment than other materials like synthetic. This is why more people are turning towards an organic lifestyle. According to a study, organic products tend to be safer and healthier because they don't have harmful toxins and chemicals that can be found in non-organic items.
Your and our family's overall well-being that matters. What we eat, what we wear, and what we use in our everyday lives have an impact on our health and the environment we live in. It's like a domino effect that involves everyone in the community.
Beach Towels, Please!
Sunshine days and warm adventures need Delilah Home's beach towels. From taking a dip in the pool to beach trips Delilah Home's Beach and Pool Collection is a perfect choice.
Delilah Home's Sunset Beach Towels are made of 100% organic cotton. These European-crafted towels have been spun into fine yards with long, two-ply, double loops that make the most of the fiber's extraordinary length. With 400 grams per square meter, these beach essentials are thick, yet they give off that lightweight feeling. Make some room in your straw bag because your towel will need a space for when you're frolicking by the beach.
If you're looking for thicker towels, the Kiawah Beach Towels are for you, they boast 500 grams per square meter feature bringing you a much thicker feel with wonderful absorbency qualities. Aside from bringing them to your next vacation trip, these reliable beach towels make for the perfect gift. It doesn't matter if it's the gift-giving season or you simply want to surprise a friend - a beach towel never disappoints.
At the end of the day, every penny will be worth it when you switch to organic products like these. Did we mention that Delilah Homes donates 10% of its profits to local charities that support health, kids, pets, and other causes that make them feel better?